All About Buck!
Buck is an exceptionally intelligent dog who loves his people and thrives with a moderate level of routine. He would love an active person or small family where he can be outdoors hiking and being active. A family with older dog savvy children would be ok too and a family that will continue his training would be ideal. He is not suitable as an outdoor dog. He is fully house trained, crate trained, good off-leash, and is very well behaved with other dogs.
Buck would benefit from additional training with "the front door threshold" as he has become vocal and agitated with lack of exercise/stimulation. Buck also prefers a crate where he can go for some downtime, but is fine with a bed too.
Buck is a very loved dog who is only being rehomed due to necessity. His "person" is a single mother who works 12-hour days and has a special needs toddler, leaving little time for Buck.
As with all animals transitioning to a new home, Buck will require patience and support. He will require a fenced yard that he cannot escape from as he is trained in tracking and may attempt to search for his previous owner.
Visit crossourpawsrescue.com for details and application.


________________________________________________________
COURTESY POST FOR BUCKINGHAM
____________________________________________________________
UPDATE: ADOPTION PENDING ON DOLLY & DUTCH
ADOPTION PENDING FOR DOLLY!
DOLLY AND DUTCH arrived from up North. They are lovely pups mixed with Lab/Husky/Shepherd about 8 weeks old. Pups are a lot of work and do require daytime care as they mature. They will be adopted to separate homes and will be spayed/neutered before adoption is finalized at 6 months of age. Adoption includes parvo/distemper vaccines, deworming, alteration and ID. Application, references and home-visit apply. NOTE: Cross Our Paws prefers to adopt our pups within the Lower Mainland of Vancouver as we have more vetting to do and alteration at 6 months.


______________________________________________________
RILEY HAS BEEN ADOPTED!
RILEY is ready to roll. This sweet, active boy is 11 months old, neutered and currently weighs 70 lbs. RILEY loves other dogs and people. He is a lab mix and needs an active home. Application, home-visit and adoption donation apply. Visit our adoption process page for details.
_______________________________________________________________
BOWSER – PENDING ON HOLD!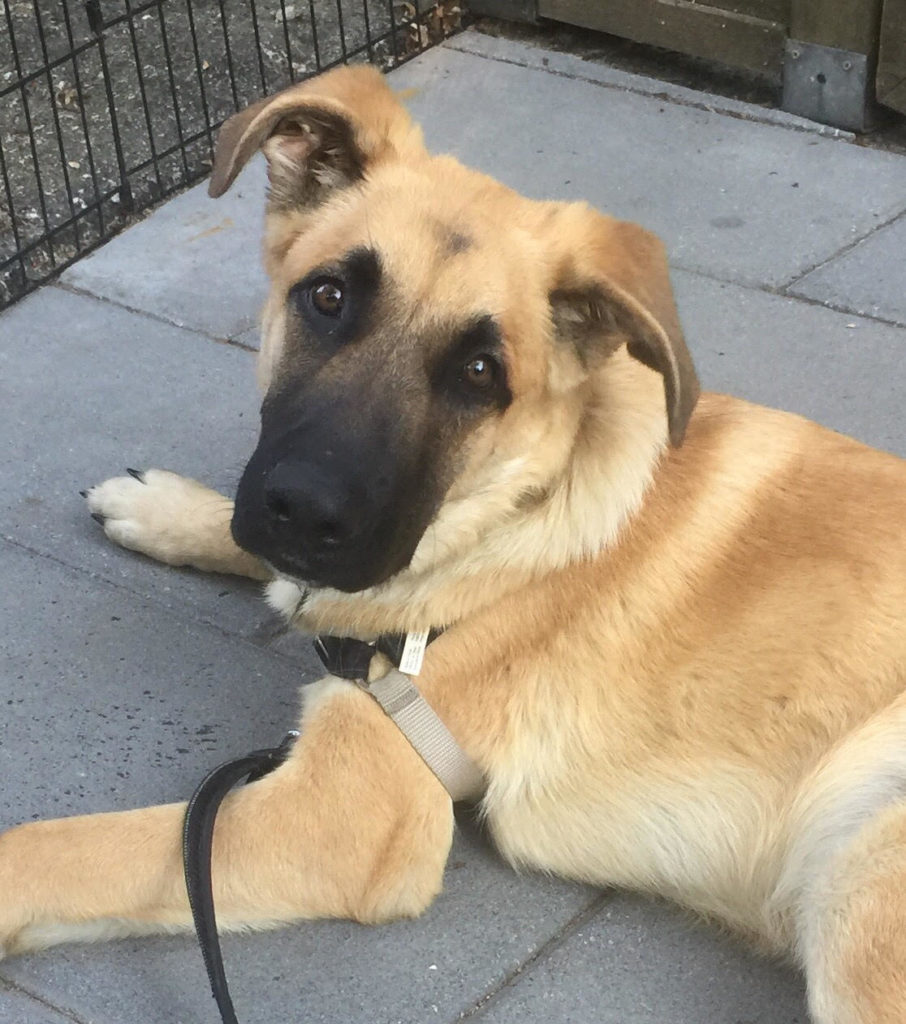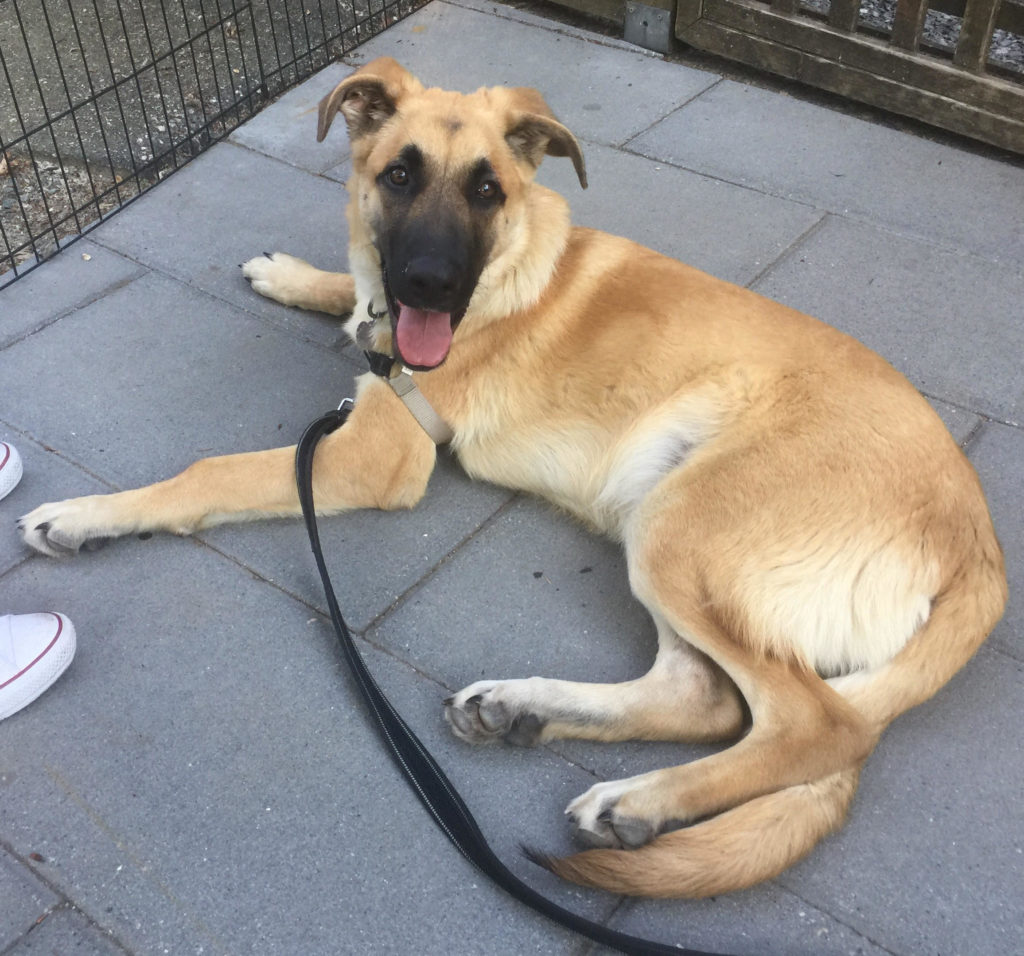 ON MEDICAL HOLD UNTIL FURTHER NOTICE!
BOWSER just arrived to us from Yellowknife on June 19th. Unfortunately, he was recently hit by a car BUT luckily, there were no broken bones. BOWSER will need time to heal from the bruising. Rest, message-therapy and a little hydro-therapy will benefit him. He is on metacam short term along with other supportive supplements to help him heal.
BOWSER is a 6 month old, 40 lb., Shepherd mix. He's a sweet boy that enjoys people and other calm dogs. He is almost house-trained and food motivated. We love him!
Please visit our adoption process page and download our adoption questionnaire. Once complete, email it back to crossourpawsrescue@gmail.com.  Home-visit, references and adoption fee apply.
__________________________________________________________________


 UPDATE: LUKE HAS BEEN ADOPTED!

Do you love German Shepherds and have experience with the breed? We are currently looking for foster care within the Vancouver Lower Mainland. LUKE needs an adult home with no small children or other pets. He would love to attend obedience training with his new owner. Please email us at crossourpawsrescue@gmail.com if you think you are a good match for LUKE. He is approx 2 yrs old, neutered and weighs about 75 lbs. Application, home-visit and references apply. For more information visit our website crossourpawsrescue.com. Please email your application directly to crossourpawsrewscue@gmail.com
 
________________________________________________________________
BLUE – Temporary Hold!
We are looking for a new home for BLUE, a beautiful, 4 year old, spayed black cat with stunning eyes. Her coat is like silk and she enjoys being brushed. She loves to sit on your lap and watch tv or on the windowsill watching the birds fly by. She prefers to sleep on the bed cuddling or under the covers snuggling with her human mom.

BLUE was rehomed as a kitten with her sibling but as they matured BLUE would prefer to live separately from her brother. She can be skittish of loud noises and would be best in a quiet home with an older couple (no children please as they scare her). We are not sure how BLUE will be with dogs as she has never spent time with them so best she be the only pet. BLUE has always been an indoor girl and her new home will need to do the same. She is completely litter trained and has never had an accident. Application, references and home-visit apply.Visit our website for details crossourpawsrescue.com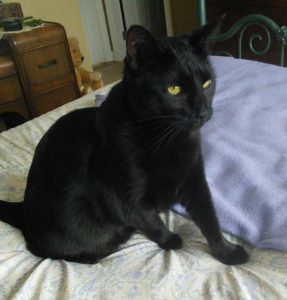 __________________________________________________________

~~ ADOPTABLE ~~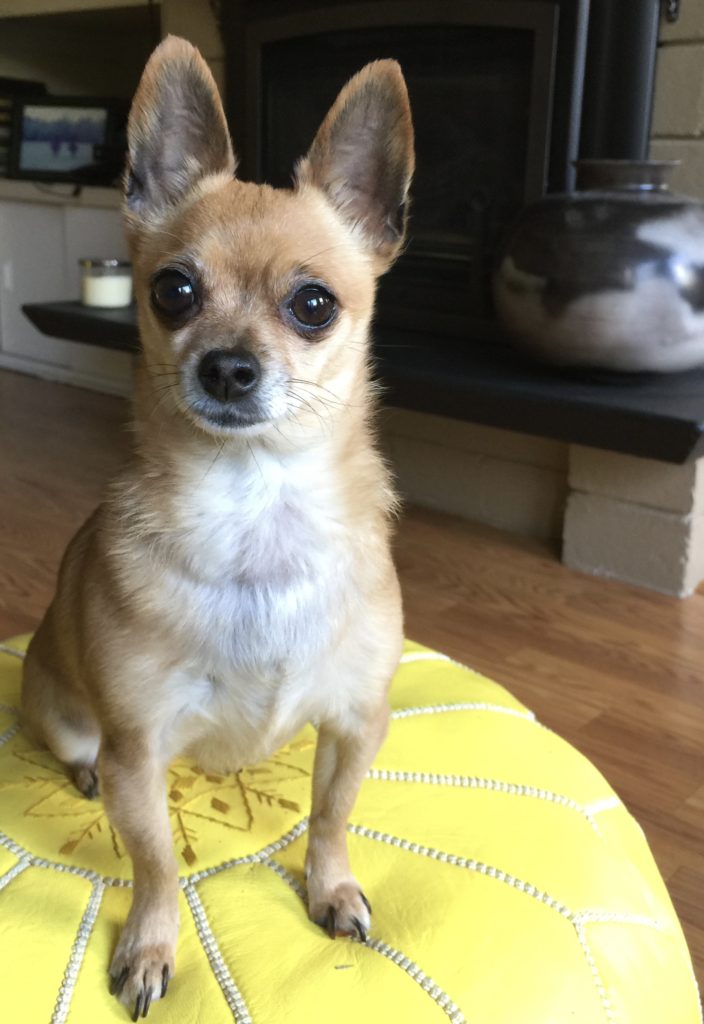 L'Taco is looking for LOVE. She is the perfect little Chihuahua for a semi-retired couple! She is well behaved and LOVES to snuggle. Taco recently lost her home due to unfortunate circumstances and it was decided that rehoming her was in her best interest. She is house-trained and will sleep quietly on your bed. She can be vocal at first meetings where she feels insecure or needs to guard the home which may not make her suitable to live in an apt or condo.
Taco is 6 years old, weighs almost 4 lbs and had a dental cleaning done last year but will require another in the future. We have learned that Taco is best suited to a home as an only pet as she prefers NOT to share her people. She can be protective of her loved-ones and is not suitable to live with young kids, cats or other dogs. Visit our adoption process page for details and application. Home-visit and adoption fee apply.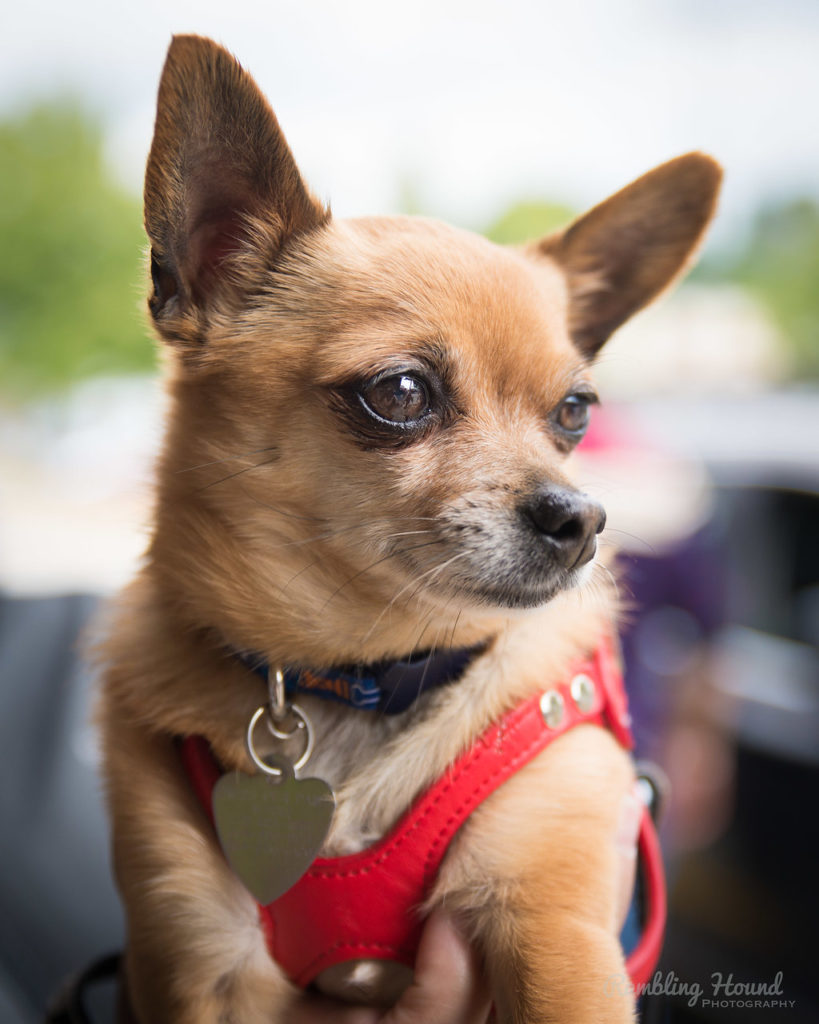 ________________________________________________________

~~ MAGGIE ~~
STATUS: Adoptable!
AGE: 3.5 years old
BREED: Shepherd/Husky
GENDER: Female
WEIGHT: 45 lbs
HEALTH: Good, spayed/vaccinated/titre tested
SOCIAL: Great with people she knows but can be timid of strangers. Good with most other dogs and ok with cats that don't run.
Do you engage in dog sports? Want to get involved in Agility or Flyable,  Tracking or Nose-work? Do you have experience with dogs that need a job? If so, Maggie might be a GREAT match! She is FAST and FOCUSSED! She will THRIVE in any sport and loves to please.
AVAILABLE FOR ADOPTION TO THE RIGHT HOME!
**MAGGIE needs a VERY savvy home without children. She is best as an only dog in the home BUT depends on the other dog. Maggie has been known to resource guard her food and toys from other dogs but does get along with other dogs for the most part. As of recently, with more exposure, has been great with the cats in her foster home and no longer chases them. MAGGIE weighs about 45 lbs and has the softest coat. She is spayed, house-trained and her adoption fee includes a 6 week training package by a trainer we recommend. Only Vancouver Lower Mainland detached homes will be considered (Maggie is not suitable to live in a condo). MAGGIE is currently being fed a raw diet which we would like her to continue on. Email us at crossourpawsrescue@gmail.com for more information and application. Maggie's adoption donation request is $395 which includes her deworming, vaccines, titre test and spay.
MAGGIE is NOT for first time dog owners. Email us for details at crossourpawsrescue@gmail.com. Application, references and home-visit apply. Application can be downloaded directly off the adoption-process page here.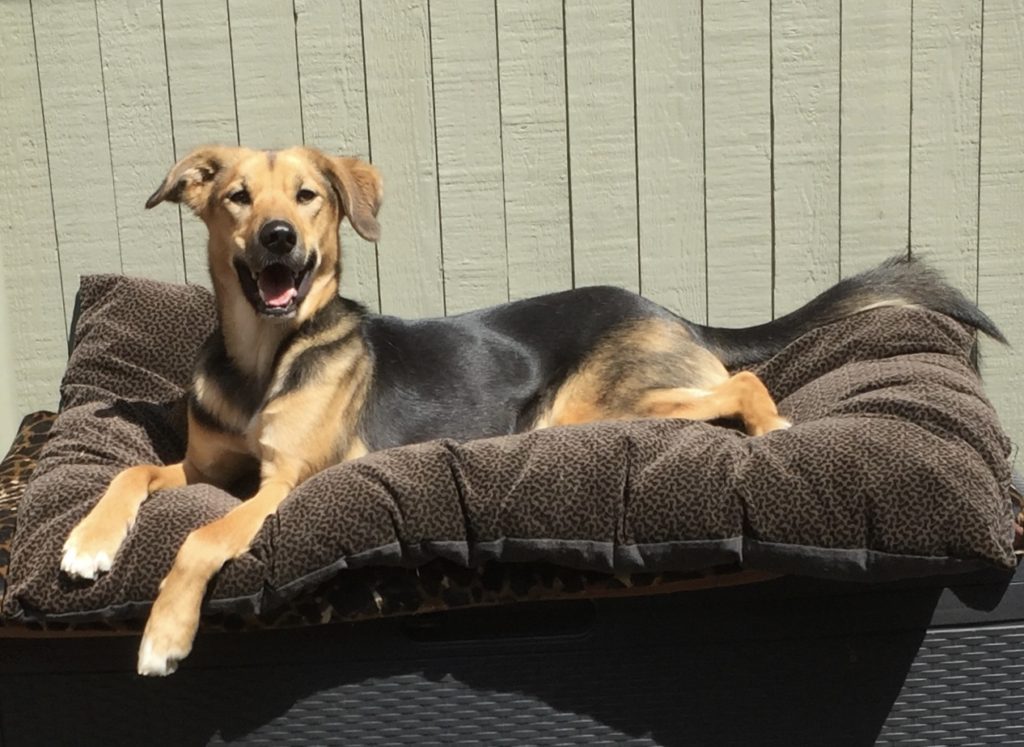 _________________________________________________________________________

~~ DIESEL ~~
STATUS: Adoptable!
AGE: 4 years old
GENDER: Male
BREED: Mastiff/Dane
WEIGHT: 99 lbs
HEALTH: Good
SOCIAL: Fearful of some men, great with dogs, not good with cats.
Say WOOF to our sweet boy Diesel, a 4 yr old, neutered Mastiff cross. Diesel weighs about 97 lbs and his beautiful coat is called apricot brindle. Diesel needs a VERY special home that have experience with fearful behaviours and experience with guardian breeds. We've had Diesel in our care since August 2014. He was surrendered to Cross Our Paws along with his brother due to unfortunate circumstances in the family. Diesel's brother was far more confident and his foster home applied immediately to adopt him.
In late August Diesel was placed in a great home with a couple that had lots of dog experience but after 2 months he came back to us. Sadly, Diesel could not learn to trust the man of the house (despite all efforts). Because of Diesel's insecurities we are being VERY cautious where we place him and are looking for a specific home for him. Diesel is currently in a home with 3 other dogs and is great with all of them as they help his confidence. A home with another confident, friendly dog is a MUST for Diesel!
His foster home also has 3 cats that are kept in a separate part of the home as he will stalk and chase them SO absolutely NO CATS or small pets can live with Diesel. Diesel's foster home ADORE him and love having him and would adopt him if they were not already at their dog bylaw limit. He is affectionate and always willing to please.
Here are the requirements for Diesel…
~A home with NO children and few men frequenting the home.
~Diesel must live with another friendly, confident dog.
~Absolutely no cats or other small pets (small dogs are ok).
~He needs a home with a secure yard that is private (no chain-link if adjacent to neighbour's yard or through-way). He would not do well in a condo setting.
~Diesel can not be left outside unattended.
~Diesel must remain on leash and does not do well at dog parks as he plays too rough at times and doesn't know his own strength. He does get along well with other dogs but needs supervision.
~Diesel is currently on a RAW diet by Red Dog Deli (due to mild allergies) and we hope he remains on this diet if at all possible but not a must.
IF you can provide what Diesel needs please download our adoption questionnaire off our "adoption process" page here and email it back to crossourpawsrescue@gmail.com once complete. References, home-visit and adoption donation of $395 apply.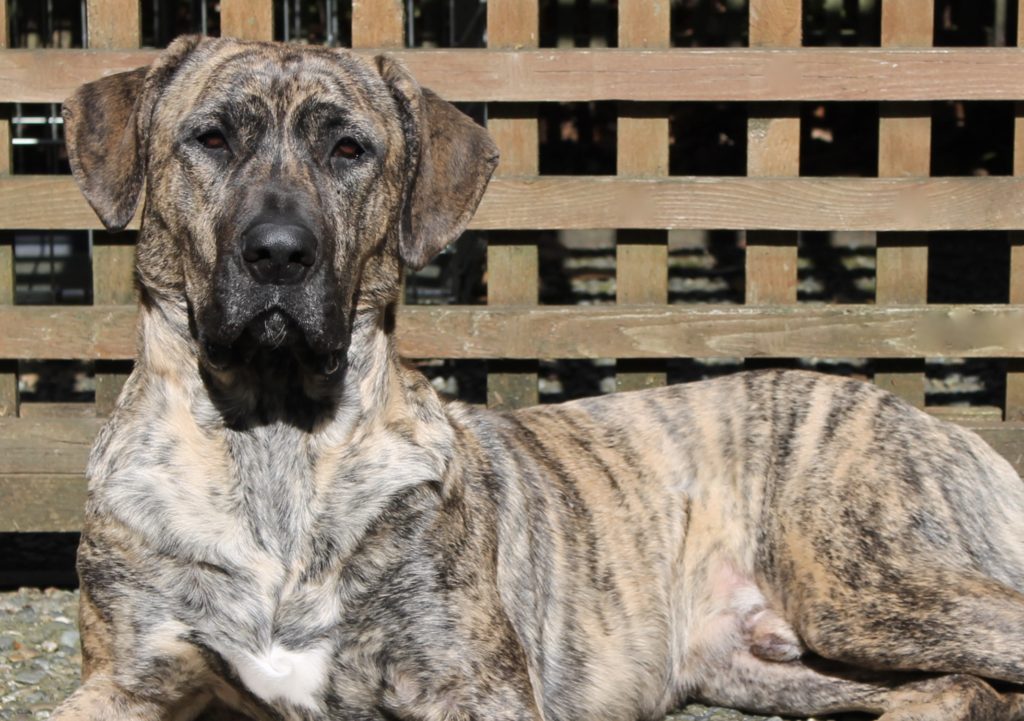 __________________________________________________________________________