COMMITTED HOME WANTED FOR ROBIN!
UPDATE: Robin has been placed in a new foster home. Please check back for updates…

       

Robin is a sweetheart — she is loving, affectionate and enjoys a good belly-rub. Robin can also be very shy and timid in new situations. We are looking for a large-breed, dog-savvy, home with no cats and older kids. Robin can be easily startled by trucks, motorcycles, loud unpredictable noises so she is best in a quiet neighbourhood. Robin loves being around women but needs a little longer to trust new males she first meets. She requires someone home part of the day, either working from home or semi-retired as she can't be trusted to not chew things as she is only 13 months old. She will need gentle reminders of her house-manners and still learning the ropes of living indoors. Another friendly, playful, strong dog would be good for Robin. She is great with all friendly dog in all sizes.
Email crossourpaws@gmail.com for details.

_____________________________


Tucker is maturing beautifully and has the sweetest personality. He is smart, active and kind. He can be shy with new dogs he doesn't know so slow intros work well.  Tucker came to us from a small community in the NWT along with his brother George (adoption pending). Tucker is a 3 month old Shepherd/Husky cross. He can be very talkative so a condo may not be suitable. Tuck has not spent time with kids or cats, therefore a home without cats and older children is preferred. He is spending some time in puppy daycare thanks to The Puppy Patch in Poco as they will help with further socialization. The team there are amazing!

If you are interested in learning more about Tucker please email us at crossourpaws@gmail.com. Application, references and home-visit apply.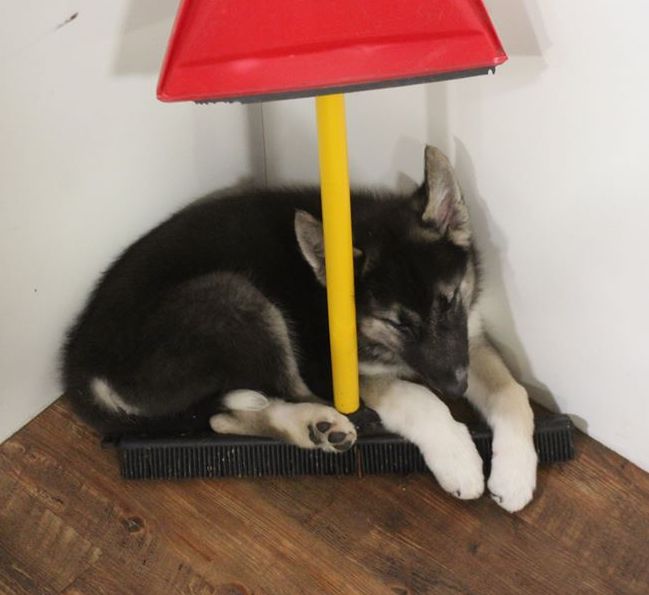 ________________________________________
TAIGA HAS AN ADOPTION PENDING! 

UPDATE: ADOPTION PENDING!
Sweet girl Taiga made her way here all the way from Deline, NWT. She is a 4 month old mixed breed of we think Border Collie and several Northern breeds. It was believed that she was bred for sledding but found outside homeless and cold. Taiga is great with other tolerant, friendly dogs but is best in a home with older kids. Taiga will be a medium sized dog once full-grown. She will be spayed before adoption.
__________________________________
These 2 sweet, spayed Doodle sisters are looking for
a new home due to a death in the family.
They are 7 years young, full of energy and love to go for walks and runs in the park. The ideal home would be able to take them together, have someone with experience in positive reinforcement training, be cat free with children over 16.

Polar and Ebony will need a little help with their manners, leash walking and socialization (their elderly guardian wasn't able to support this) but are super smart and complete love bugs. The are good with other dogs but prefer their own company. If you are interested in learning more please email us at crossourpaws@gmail.com.

_______________________________

TEMPORARY FOSTER HOME NEEDED! 
COP is searching for foster care for Rex, a sweet, 6 to 7 yr old, medium sized mixed breed. Rex is in need of an experienced, adult

 foster home WITHOUT kids. His foster period will be for approx 2 months and ideally a quiet but active home is best. He is not currently available for adoption and has special requirements. Rex is great with other dogs, walks nicely on leash and enjoys a good belly rub. He is house-trained and not destructive in any way.
Please email us if you can help. Foster home in the lower mainland is preferred. All his expenses are covered while in your care. Email us at crossourpaws@gmail.com if you can help.

THANKS SO MUCH! 
___________________


MEET THE RATS!

These sweet, fancy, pet rats  are ready for
loving homes together …
They are 7 month old siblings and very               affectionate and tame. We have 2 bonded females and 3 bonded females that must be adopted together.
_____________________
QUINEA PIGS FOR ADOPTION!

These 2 cuties are looking for a new home together.
We are courtesy posting for our local shelter.  They were left in a box at the front door of a local
shelter (after closing) so their details are unknown.
They are bonded and would love a home together.

If you are interested in adopting please email us at crossourpaws@gmail.com.
____________________________________
~~ DIESEL ~~


STATUS: Adoptable!
AGE: 7 years old
GENDER: Male
BREED: Mastiff/Dane
WEIGHT: 99 lbs
SOCIAL: Fearful of some men and children, great with dogs he knows, not good with cats.

Here are the requirements for Diesel…
~A home with NO children and few men frequenting the home.
~Diesel must live with another friendly, confident dog.
~Absolutely no cats or other small pets (small dogs are ok).
~He needs a home with a secure yard that is private (no chain-link if adjacent to neighbour's yard or through-way). He would not do well in a condo setting.
~Diesel can not be left outside unattended.
~Diesel must remain on leash and does not do well at dog parks as he plays too rough at times and doesn't know his own strength. He does get along well with other dogs but needs supervision.
~Diesel is currently on a RAW diet by Red Dog Deli (due to mild allergies) and we hope he remains on this diet.
IF you can provide what Diesel needs please download our adoption questionnaire off our "adoption process" page here and email it back to crossourpaws@gmail.com once complete. References, home-visit and adoption donation apply.